I noticed a lot of people asking about resin and what it can be used for...and its amazing at the many possibilities you can do with it...
First, I've used resin before as a top coating, to give a piece a domed, glassy, magnified look...especially in domino pendants such as these....
also same thing with scrabble tile pendants...like these...
You create a domed effect when you use the resin on a flat surface. You can also use resin to fill a bezel. For example, you can use it in traditional type bezels such as these settings which are made from polymer clay...
or in metal settings such as these...
Other bezels you can use are bottlecaps, buttons, shells, spoons or any other thing that has a "cup" like area that the resin won't seep through...you just need your imagination to come up with more...
You can use certain molds like the flexible silicone molds or special plastic molds to create beads or other castings...I used a special plastic molds to create these basic shaped cabochons...
In these cabochons, I incorporated glitter/ pearlex powders. That's another nice thing about resin...you can incorporate anything you want...from candy, rhinestones, pictures, charms, glitter and so much more to create a collage like effect...
Look at these really cute resin bangle with embedded candy sprinkles sold by Lunaricsales on Etsy ...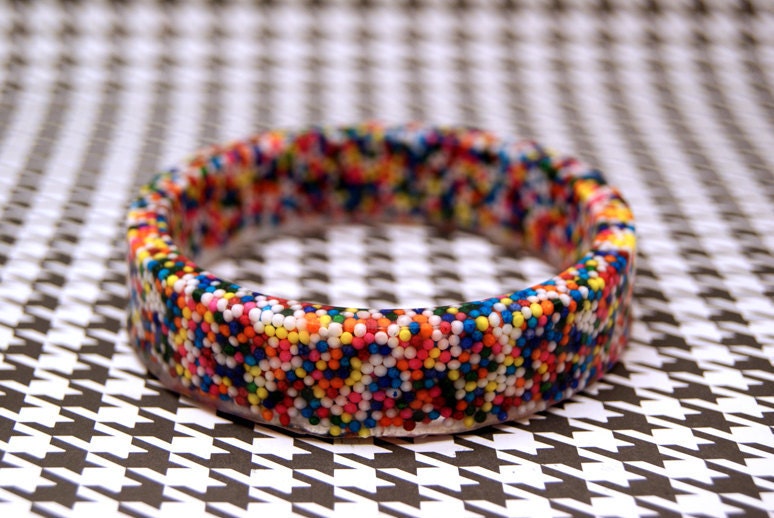 This is a picture by India from her shop Lunaricsales...check out her shop..she has lots more beautiful resin jewelry there...
If you work a lot with polymer clay...you can use resin in a lot of techniques... check out

Eugena Topina's Tutorials on resin and polymer clay!
She has tutorials on creating faux lampwork with polymer clay...which I bought a couple months back...but haven't had time to try it yet....but I'm sure itching to do so!!!
She also has tutorials with resin to create Faux Cloissone, Faux art glass, faux enamel, resin and gold leaf. Check out her page on Polymer Clay Tutorials!!! They're all so lovely...
So, that's just a few ideas of what you can do out of resin.... your imagination's the limit!!!